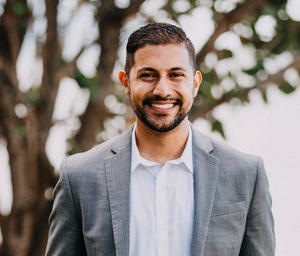 Sheraz Iqbal 
Assistant Director of the Asian American Cultural Center
Sheraz joined the Asian Network in 2017, serving as the Co-Chair on the Career Development Committee where he continued the Yale Women's Leadership Series workshops in addition to bringing in other great social and speaker events including, "Managing Up and Down in the Workplace" and the "Pan Asian American History Month Gala." Currently, he has helped start up and is serving on the ad-hoc Pledge Committee and is the 2020-2022 ANY Co-Chair. In addition, his work with the Asian Pacific Islander Desi American (APIDA) community includes serving as the 2016-2017 Chair of Assessment at the University of Florida's Asian Pacific Islander American Affairs and serving as the 2017-2020 Community Engagement Chair for the Asian Pacific American Network (APAN) for the American College Personnel Association (ACPA). Finally, Sheraz is the 2020-2022 ACPA APAN Co-Chair.
Frances Osugi
Conservation Technician, Special Collections, Yale University Library
Frances Osugi works as a Special Collections Conservation Technician for the Yale University Library. She performs a range of treatments, focusing primarily on works on paper and photographs from the Beinecke Rare Book and Manuscript Library. As a staff member in the YUL Preservation Department, Frances and her colleagues provide teaching, learning, and research support to the specialized libraries within YUL by ensuring that the amazing and diverse collection materials are accessible to patrons, scholars, and institutions, locally and worldwide. Conservation additionally supports a robust exhibition program. Items are treated in preparation for the numerous shows held throughout the year at exhibit venues across campus. YUL is regarded as the Heart of the University, and Frances is honored to be a steward of such incredible collections. Frances joined the Asian Network in 2018, and served on the Community Engagement Committee. Currently she is helping start up the ad hoc Pledge Committee. 
Previous Co-Chairs
 

Jean Chang (2018-2020), Senior Auditor, Special Projects and Investigation, University Auditing
Jean has worked at Yale for a total of 15 years, and this is her third time returning to Yale, this time from Singapore.  Jean held various managerial positions at Yale, started with Business Manager at the Office of Student Affairs & Education at Medical School, Senior Auditor, Director for Productivity Initiative & Management Reporting, Business Manager at ITS and Associate Director for Enterprise Risk Management.  Jean was Principal and Managing Director for Integrated Risk Advisor while she lived in Singapore from 2010 to 2015, provided consulting services to leading universities in Singapore.  Jean also worked as consultant and project manager at Hoffman-La Roche in Basel, Switzerland; IBM in Research Triangle Park and California; and at Arthur Andersen's Boston Office.  Jean was co-chair for ANY's Career Development.  Working with ODI and WWN, Jean was one of key members founded Yale's Women's Leadership Series to showcase Yale own successful women leaders who, through the moderated discussions to inspire and encourage women to reflect on their own goals and status as they strive to advance in their careers and lives.  

 

 

 

 

Naureen Rashid (2019-2020), Special Adviser for Strategy and Academic Business Operations

Naureen graduated from Yale College in 2014 with a Bachelor's degree in Economics and Political Science. After graduating from Yale, she worked in Washington D.C. as a financial analyst at the Consumer Financial Protection Bureau, focusing on payday lending and financial literacy. She then went on to get a Master's degree in Economics from Columbia University. Naureen has worked at Yale for two years and currently serves as Special Adviser for Strategy and Academic Business Operations. In this role, Naureen supports key strategic University initiatives, such the University-Wide Committee on Data-Intensive Social Science, and provides data-driven recommendations to senior University leadership. She is also a resident fellow for Grace Hopper College and lives in the college with her husband. As a resident fellow, Naureen organizes student life programming and serves as an adviser to undergraduate students, providing guidance on course and major selection, career opportunities, and work-life balance. Naureen was recently presented with the Rising Star Award by Future Leaders of Yale and with the Mentor of the Year Award by Future Leaders of Yale and Connecticut Young Professionals.

 

Christina Andriotis (2017-2019), Programs Coordinator and the Registrar of the European Studies Council at the MacMillan Center

Christina leads the administrative coordination of the Council and all affiliated programs — planning, publicizing and executing the events, conferences and activities of the Council. The Council is home to special programs in European Union Studies, Baltic Studies, Hellenic Studies, and Russian, East European and Eurasian Studies. Before devoting her time to European Studies, Christina spent seven years at the Whitney Humanities Center. She coordinated the many academic/cultural activities of the Center and managed the Center's facilities and rooms reservation system. 

Sarath Kraus (2016-2018), Strategic Operations Manager

She was the founder of the Local Workday Guru Network at Yale University, a high performing team of field Business Operations staff who are responsible for supporting Yale's transformation toward a more unified administrative platform.  Before devoting her fulltime work to implementing the Network, Sarath led a variety of projects including the optimization of Yale's internal control assurance framework and the Strategic Partner Leadership Program, a mentorship program that aims to foster and develop the talents of colleagues who aspire to move into higher level financial and leadership roles.

Fawn Wang (2015-2017), Office of International Affairs Director, East Asia

Fawn supports Yale's East Asian initiatives, developing and facilitating Yale's relationships with institutions and senior officials in government, business and higher education in the region. She is responsible for Yale presidential visits to China as well as visits to Yale by delegations from East Asia. Fawn manages large network and media relations to support Yale's collaborations and reputation in China. Prior to her appointment in the Office of International Affairs, Fawn was a senior program officer at the Yale-China Association, where she developed and managed public, fellowship and health programs. She holds Master's degrees in English and in Library and Information Science.

Jean Zheng (2014-2016), Engineering Director for the Yale Center for Biomedical and Interventional Technology (CBIT)

Helped catalyze the integration of medicine, engineering, and business disciplines to address challenges in patient care, and the translation of biomedical innovations at Yale into the market. I managed 40+ clinician-led medical device projects, co-taught a "Medical Device Design and Innovation" class in the School of Engineering, organized innovation events such as healthcare hackathons and clinician pitch nights, and coordinated a Clinical Immersion Program for industry where senior-level engineers and managers from medical device companies observed surgeries in the Yale-New Haven Hospital and received didactic lectures from Yale faculty and clinicians on topics such as anatomy, value analysis, hospital purchasing decisions, patient and nursing experience, etc.

Tammy Wu (2013-2016)
Tammy Wu (2013-2016), Associate Director of Corporate and Foundation Relations, Yale School of Medicine
Shirley Chock (2011-2013)
Shirley Chock (2011-2013), Workday Financial Management Lead. 

Functional Lead of the Financial Management Team for Yale University's Workday Financials implementation. Functional Lead for the Yale Budgeting Tool implementation.

 

 

Anna Maria Hummerstone (2008-2012)

, Director, Yale School of Medicine Faculty Support; Lead,

Workday@Yale

Faculty & Other Academic Units

Henry Kwan (2008-2010) 

Henry Kwan (2008-2010), Director for Shared Interest Groups at the Alumni Association of Yale Alumni

I work with and support members of the Yale community (primarily alumni but also faculty, staff and students) who are leveraging their talents, strengths and passions to make a positive difference in the world and uplift the lives of others–yes, really; this is my job description! Some of the alumni groups that I currently work with include:

- Yale Veterans Associaton
- Yale Blue Green (for alumni interested in the environment and sustainability)
- Association of Asian American Yale Alumni
- Native American Yale Alumni
- Yale Alumni Journalism Association