by: Frances Osugi
The Working Women's Network and Executive Sponsor Joan O'Neill hosted the 6th Annual WWN Recognition Award Ceremony as an in-person celebration on Thursday, March 31st held at West Campus. This ceremony recognized six women who have been exemplary members of the Yale community: Limor Peer (Trailblazer), Melanie Elliot (Heroine), Sara Azam (Visionary), Nikki Mills (Worklife Champion), GoEun Lee (Innovator/Creator), and Joanna Carmona (Community Catalyst).
Congratulations to Sara Azam and Joanna Carmona, both ANY leaders chairing the Social Justice and Community Engagement sub-committees respectively. Sara and Joanna are outstanding members and contributors to our community. It was wonderful to take a moment and acknowledge their incredible volunteerism, steadfast energy, and creativity. Awardees were each handed a beautiful bouquet of flowers and commemorative keepsake.
SARA embodies the ANY mission to connect, inspire, and empower - and is a fearless agent of change at the University. Sara is absolutely committed and driven to host meaningful programming – as a part of healing, learning, challenging status quo that is needed on campus, for staff too, many of whom do not see their experiences reflected or acknowledged. Sara leads by the heart with a firm sense of justice, a true visionary.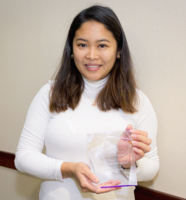 JOANNA has lent her expertise to ANY and has raised all our external and internal media presence. From our website to our monthly e-newsletter. Joanna has brought a high level of professionalism, thoroughness, and data-backed reporting to our steering committee. Joanna is indeed a catalyst for our affinity group's success not only by keeping everyone informed and connected amidst pandemic challenges but growing stronger as an API/AAPI community.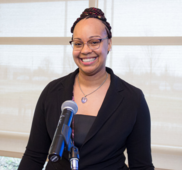 We would also like to extend a round of applause for our ANY member Marinda Monfilston, who launched and chaired this WWN award ceremony committee for six years! Marinda emceed the event and at the end was acknowledged for her dedication to uplifting and celebrating women at Yale.