May 12: Mother's Day Outreach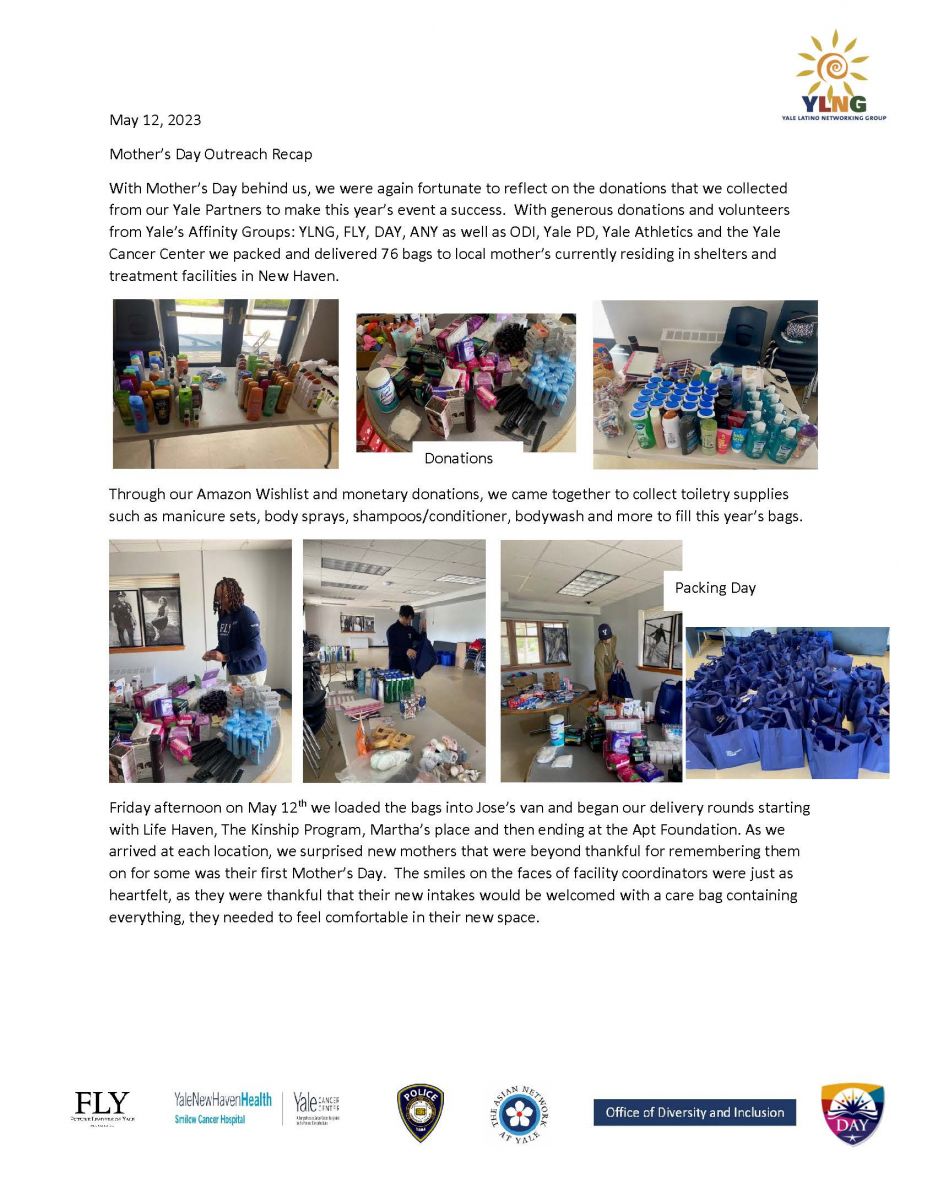 Mar. 16: Workshop with Elena's Light 
Elena's Light, a non-profit organization in New Haven, organized a virtual career development workshop for Afghan refugee women, with the support of ANY. The workshop had 10 participants and was facilitated by a translator and two experts who guided them through various aspects of career development such as resume building, job searching, managing finances during job search, and interviewing techniques. The women were thrilled to have the opportunity to connect with others in their community and learn new skills.
Mar. 8: International Women's Day
This year's event was the largest and first in-person celebration post pandemic, with 13 locations represented around Yale campus. $1,245 was raised for the Connecticut Women's Education and Legal Fund (CWEALF).  We thank all our volunteers, planning committee members, and special guests (Handsome Dan XIX and Heidi, the Yale Public Safety service dog), for making March 8th a memorable celebration of the social, economic, cultural, and political achievements of women - while also marking a call to action for accelerating gender equality.  View the galllery of images here.
Feb. 23: Winter Potluck/ Recipe Swap
It was a delightful evening at the winter potluck and recipe swap night, hosted by ANY Well-Being sub-committee. The event was filled with warmth as attendees came together to share an array of delicious foods from various cultures. An assortment of delectable dishes ranging from halal beef samosas, Chinese fried rice, Japanese potato salad, tofu pad thai, chicken tikka masala, saag paneer, pulao, to garlic naan were sdhared amongst others, ending with a refreshing mango lassis and gulab jamun for dessert. Folks had a great time connecting with one another and swapping stories about everyone's backgrounds and the significance behind each dish.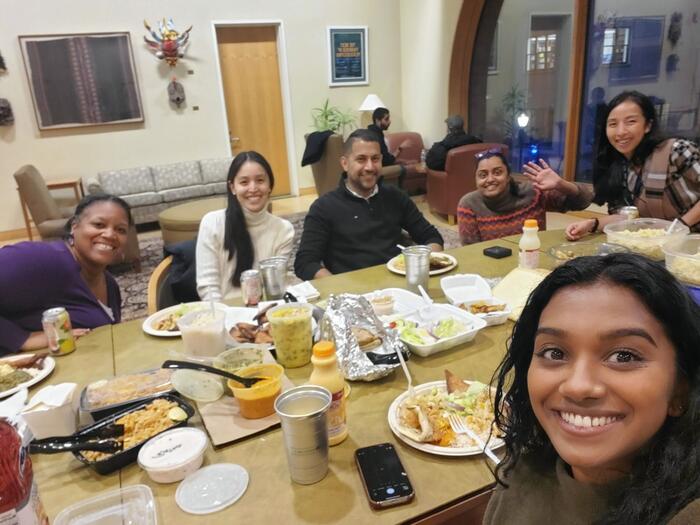 Feb. 12: The IRIS 5K Run for Refugees
The IRIS run for Refugees was a success once again this year! Ten dedicated ANY members braved the chilly winter temperatures to stand in solidarity with fellow New Haven residents and support IRIS' noble cause. Over 2,000 participants who ran, walked, and stroller-pushed the streets of East Rock.  The race was able to generate more than $86,000 this year towards the goal of $100,000 (donations are still being accepted). ANY members also had the privilege of meeting Congresswoman Rosa Delauro and Senator Richard Blumenthal who were also at the event.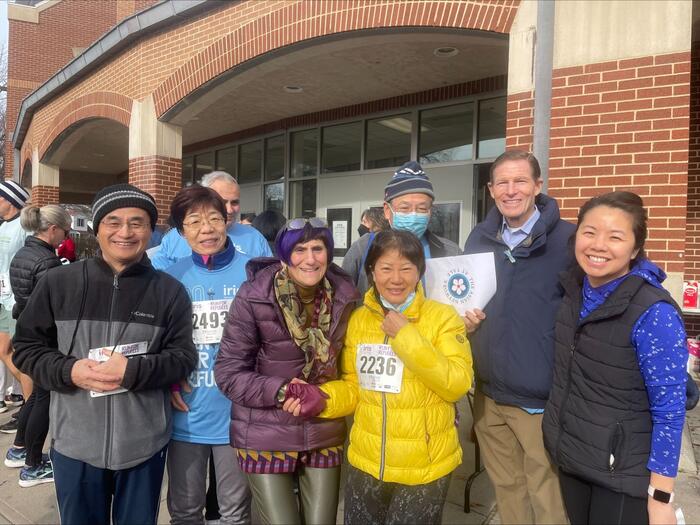 Jan. 28: Lunarfest Parade
As a sponsor of Lunarfest 2023,  the Asian Network at Yale (ANY) participated in the parade with other groups from the New Haven area on Jan. 28th.  This was the first in-person celebration of Lunar New Year after the pandemic.  Although it was a little bit windy, the weather was relatively nice for a typical winter event, and event was well attended and received.  ANY was proud to be a part of this event celebrating Asian cultures and heritage.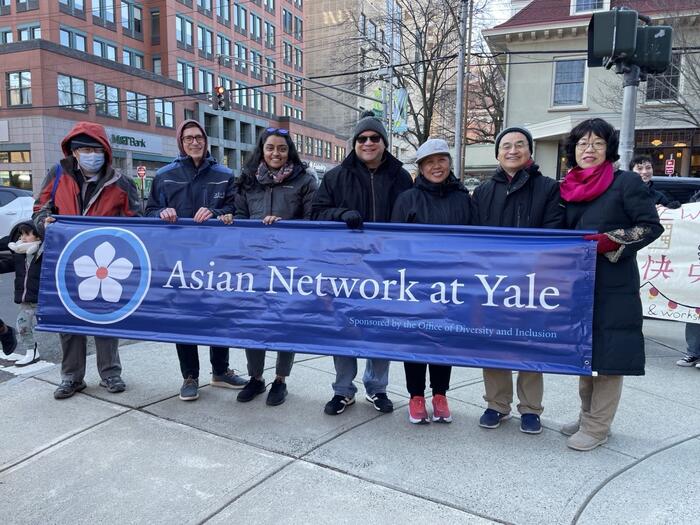 Jan. 11: Movie Night
The Asian Network at Yale (ANY) Social Justice sub-committee hosted its first event for 2023 - Jo Koy's Easter Sunday film screening, followed by a discussion. 
In the film industry, Asians are often pushed to conform to roles and scripts that align with stereotypes, and seldom cover accurate cultural depictions of an individuals' experience. Consisted of a largely Filipino cast, the film depicted the intertwining experiences of a minority in a white-dominated society, generational gaps between children and their immigrant parents, familial conflict and resolution, amongst other conversation starters.