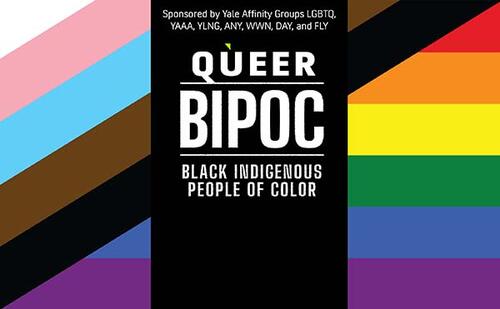 During this virtual times, the Asian Network at Yale in collaboration with other Yale Affinity Groups held successful events during the last quarter of the year.
On October 28, the Queer Black Indigenous People of Color (QBIPOC) group held its first a virtual town hall for Yale staff, faculty, and post docs who self-identify as LGBTQ and Black, Indigenous People of Color. This was a joint effort of Yale Lesbian, Gay, Bisexual, Transgender, and Queer (LGBTQ), Yale African American Affinity Group (YAAA),   Yale Latino Networking Group (YLNG), Asian Network at Yale (ANY), Working Women's Network (WWN), DiversAbility at Yale (DAY), and Future Leaders of Yale (FLY). Approximately 22 people attended from across campus and workplaces from home. The purpose of this meeting was to share perspectives, experiences, challenges, and concerns. Part of the goal is to provide a regular gathering place and time and to ensure privacy and safety for those who self-identify as QBIPOC.  
The Asian Network at Yale's Social Justice sub-committee hosted its first group of online training course, Unconscious Bias, on Oct 27. The group training was help via zoom as an action step of ANY's ongoing pledge to examine one's own beliefs and biases. Twenty one participants joined in the training that was led by our very own Deborah Stanley-McAulay, Associate Vice President for Employee Engagement and Workplace Culture. Participants gained a deeper understanding of how unconscious biases develop and as well as influences perceptions and decision making. This was an interactive 90-min workshop with exercises that challenged our visual, auditory, and brain responses.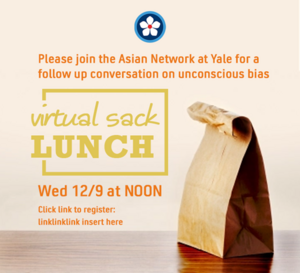 Following the Unconscious Bias training, Virtual Sack Lunch was held on Dec. 9. Participants from the previous training were invited back to discuss what they learned from the workshop and put into daily practice. This was an open discussion to share experiences, challenges they came across, and generally support one another. 
Stay tuned for more events in 2021.