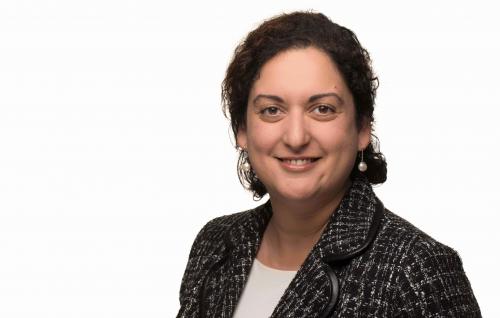 Meet Christina Andriotis. She can be found in the MacMillan Center for International and Area Studies in Luce Hall where she works as a program coordinator for the European Studies Council. She enjoys Korean scallion pancakes and has taken up boxing as a hobby-exercise. Congratulations to Christina on becoming the new co-chair of the Asian Network at Yale (ANY) affinity group.
What are your main responsibilities?
As a program coordinator for European Studies at the MacMillan Center, I coordinate all aspects of the program as the administrative lead for my program managers and faculty. I also handle the events and communications for the council and affliated programs.
What do you like most about your work?
I graduated from Northeastern University with a bachelor's degree in Political Science and, towards the end, I concentrated on international affairs and the European Union, so being back in the field makes me happy. I'm helping to advance the research and I'm also helping both undergraduate and graduate students enrich their study and understanding of Europe, Russia, and even Central Asia..
How did you learn about your affinity group?
Thanks to my friends and colleagues.
How have you incorporated your volunteer role into your current job?
In a couple of different ways. It's given me hands-on experience with website development and management, as well as content writing and design. So, thanks to those skills, I'd say my leadership skills have tripled. I can use them to help steer myself, my colleagues, and the affinity group.
What excites you about taking on your affinity group co-chair role?
 A greater influence and overall impact on an entity and people. I am not following, but leading in this role. Also, serving as a resource to my friends and peers in a different way.
What skills, abilities, and personal attributes are essential to the success of an affinity group co-chairperson?
Being an open person. Having a go-getter attitude. I don't want to be obvious and say "leader", but be a "caring leader,." Those three skills can help make someone the best leader they can be.
Why did you decide on running for the chair position of your affinity group?
Because I wanted to take on a leadership role. But, mostly, I wanted to highlight the inclusion part of our Diversity and Inclusion Office. When you see me you won't think I come from an Asian background and that's another reason why I wanted to take on the role. I look at it as a means to learn about new and interesting cultures and give back to my heritage as it is represented here at Yale.
By Samuel Suffrard, New Haven Promise Scholar intern