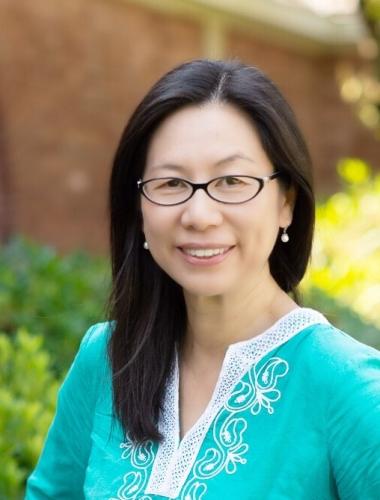 Meet Jean Chang, the new Co-Chair of the Asian Network at Yale (ANY)! Jean is a senior auditor for Special Projects and Investigation at the University Auditing.  She has worked at Yale for a total of 15 years at various managerial positions, and this is her third time returning to Yale, this time from Singapore.
What are your main responsibilities in your job, and what do you like most about your work?
I work mostly on compliance audits or special projects for the Office of the General Counsel. I appreciate my very supportive supervisor and team. The work involves very complex projects with findings that go to the University's senior management. I enjoy my work not only because I learn various University operations from every project I work on, but also because I know my work brings added value and helps to improve University operations.
How did you learn about your affinity group?
I learned about ANY from my friend, Shirley Chock, who was a member. I got involved when ANY was first founded. It was quite challenging at the beginning, there was a lot of representation of members from different parts of Asia, with many different culture and languages spoken. ANY is now very united, and at the same time representing diversity.
What excites you about taking on your affinity group co-chair role?
ANY has approximately 800 members, and about 8% of Yale's staff workforce. I look forward to working with my Co-Chair, Christina Andriotis and together leading ANY as a welcoming group to connect people with different cultural and racial backgrounds, a fun place where new ideas and advocacy are welcome, and be part of the changing force to transform Yale.  I would like to see ANY connect what we are doing to the larger Yale mission, and help members meet people and learn more about Yale. I look forward to growing the ANY membership and welcoming young members and new ideas at ANY's Steering Committee.
The Co-Chair role is a two-year term which is a great opportunity for ANY to get fresh ideas and as well as to rotate the leadership role among the Steering Committee members.  Each new Co-Chair brings his/her inspiration and passion to ANY's leadership. For me, my inspiration is to promote wellbeing, promote work/life balance and to advocate job training and career development. One of my favorite quotes is from the founder of the Virgin Group Richard Branson, "Train people well enough so they can leave, treat them well enough so they don't want to."
What impact are you looking forward to having on ANY?
I look forward to always bringing something new. My goals are to align ANY's programs and events with President Salovey's vision for an innovative Yale.  To be an innovative Yale, Yale needs to transform its workforce to be innovative. And, it is important for ANY to recruit more young members and get new ideas and fresh energies.  Younger generations are the future of Yale. I am also an advocate for work-life balance. ANY is planning to bring lunchtime Tai Chi series and Tea Time for our members. I am excited to guide ANY in being more collaborative with other Affinity Groups at Yale, and branding ANY to encourage new members. I'm passionate about promoting wellbeing, advocating for members, and continuing to celebrate culture and excellence.
You've been a staff member at Yale for fifteen years and have moved to Switzerland and Singapore in-between that time. How has Yale changed?
I have been pleased to see that the leadership at Yale had a huge impact on the direction of Yale, where Yale today is a truly global institute and community.  Yale campus has been transformed, and as well as the city of New Haven. I also appreciate the growth in careers I've seen for my colleagues at Yale. I have learned from ANY events that everyone's career path is different, but I think that ANY can be a great vehicle and platform to support our members, particularly for younger generations.
Yale is an extraordinary place; we're very lucky. Nobel Prize winners, former presidents, and business leaders have found themselves here. Leaders who are passionate about New Haven, as their hometown or a home away from home, make a difference.
ANY volunteers can make an impact to Yale community. I look forward to bringing new ideas, a fresh perspective, and a responsibility to motivate new members to join, and encourage our members to lead.  Therefore, ANY is growing and we are all benefiting, and the leadership for ANY can be sustainable for the future.
---
By Sarah Thieneman