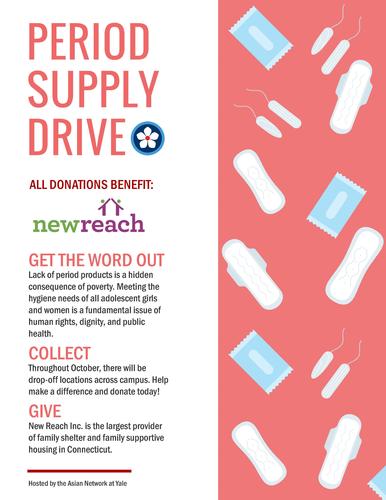 Thank you everyone for participating in our donation drive. We collected five full boxes of period products and delivered them to New Reach Inc. #endperiodpoverty
—
October is Period Awareness Month and October 19 is National Period Day!
1 in 4 women have struggled to purchase period products within the past year due to lack of income.
1 in 5 low-income women report missing work, school, or similar events due to lack of access to period supplies.
Lack of period products is a hidden consequence of poverty. Help ANY sponsor a drive for donations of feminine hygiene products such as pads, tampons, liners, menstrual cups and discs. We'll be collecting donations for New Reach Inc., the largest provider of family shelter and family supportive housing in Connecticut, through the month of October at the following locations:
Another way to help is shop at smile.amazon.com. Amazon donates 0.5% of the price of your eligible AmazonSmile purchases to the charitable organization of your choice. Support by selecting New Reach, Inc. Every bit helps!