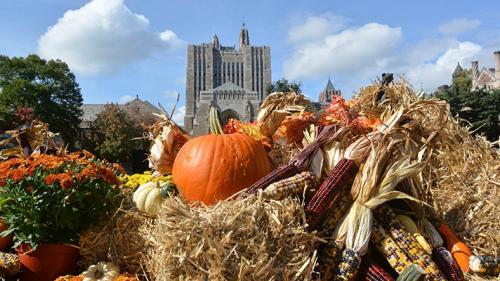 Musical entertainment, harvest treats, a photo booth, tours, open houses and more will be part of the festivities when the Yale community celebrates Founders Day on Wednesday, Oct. 5.
This is the third year that the campus community is marking Founders Day, which is now held annually on a day close to the anniversary of the enactment of legislation on Oct. 9, 1701, by the Connecticut colonial assembly, to establish the collegiate school that has grown to become Yale University.
This year, Founders Day overlaps with "Celebrate Sustainability," a weeklong series of sustainability-related events around Yale's campus. The 2016 Founders Day theme is "Working Together for a Sustainable World," allowing members of the campus community to celebrate the ways they are "working to ensure that the legacy of our founders can continue into the future," according to the website for the event.
A highlight of the Founders Day festivities is a fall celebration on Cross Campus, with musical performances, food, and other entertainment. It takes place 11:30 a.m.-1 p.m.
Other Founders Day events include:
Tours — either self-guided or led — will be offered at the Cushing/Whitney Library; Woodbridge Hall, Yale sacred sites; Yale School of Drama/Yale Repertory Theatre; the Mead Visitor Center, Peabody Museum of Natural History; Beinecke Rare Book and Manuscript Library; Mory's; Yale's urban meadows (including a bird walk); and Hillhouse Avenue. At some of these sites, visitors will able to see current exhibitions.
There will be open houses at the following sites: Yale Landscape Lab (also featuring a scavenger hunt); Yale School of Architecture; Sterling Memorial Library, Yale University Art Gallery; Yale Center for British Art (the Founder's Room — rarely open to the public — will be open); and Cushing/Whitney Medical Library (featuring a 75th anniversary party).
A lecture, "How New Haven Won Yale from Saybrook," will take place at 4 p.m. in the International Room of Sterling Memorial Library, 120 High St. Chief Research Archivist Judith Schiff will describe how Yale ended up in the City of New Haven.
In addition, President Peter Salovey will make drop-in visits to meet with Yale staff at the following locations: Harkness Ballroom at the School of Medicine (10 a.m.); Beinecke Rare Book & Manuscript Library (10:45 a.m.); 344 Winchester Ave. (2 p.m.), and Yale Health Plan (2:30 p.m.).
This year's Founders Day will feature the fourth annual #InspiringYale Instagram Challenge. Instagram users on campus during Founders Day are encouraged to share some of their favorite spots at Yale, then post their photos to Instagram with the tag #InspiringYale to enter the contest. Photos must be posted on Oct. 5 between 8 a.m. and 4 p.m. A team of judges from the Office of Public Affairs & Communications will select the winning photo; the first place prizewinner wins a lunch with Peter Salovey and a friend. See the rules for submission.
For the full schedule of Founders Day events, visit the website.