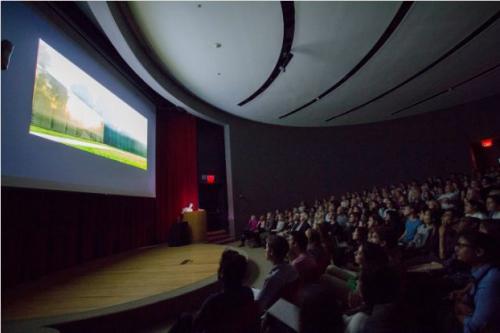 Nearly 400 members of the Yale community gathered Friday to hear Maya Lin '81 ARC '86 deliver the inaugural "Women of Yale" lecture — a presidential lecture series that will continue through 2019 to commemorate the 50th anniversary of Yale's undergraduate coeducation.
In the talk, entitled "Topologies: Process and Projects," and loosely based on a 1998 monograph of Lin's work, Lin — who designed the Vietnam Veterans Memorial in Washington, D.C., and the Women's Table on Cross Campus — described her body of work as an interplay between art and architecture underscored by a commitment to the environment.
The Robert L. McNeil, Jr., Lecture Hall of the Yale University Art Gallery, where the lecture was held, quickly filled to capacity, forcing organizers to turn dozens of guests away.
University President Peter Salovey introduced Lin's hourlong presentation. Salovey described Lin as having motivated an entire generation of Yale students, which followed her story of rapid ascent into the public eye. Lin first gained acclaim during her senior year at Yale, when she submitted a proposal for the design of the Vietnam Veterans Memorial to a national competition. She went on to win, and later received the 2009 National Medal of Arts — the nation's highest honor for artistic excellence.
Lin presented photographs of her art and architecture in places such as New Zealand, Sweden, Michigan, Kentucky and the Hamptons, among others.
"I am intensely interested in the space between things," Lin said while describing "Blue Lake Pass" — a work composed of a disjointed topographic grid with narrow pathways for observers to walk through. "I keep [art and architecture] separate but they inform all my work."
During the lecture, Lin highlighted her new environmental initiative, "What Is Missing?" — a "global memorial to the planet," according to its website. Lin called on audience members to submit personal "memories" of experiences involving environmental degradation or species extinction in their own lives. The digital component of the memorial includes sound and video clips of the natural world formatted into interactive maps. The offline components of Lin's environmental memorial include both temporary and permanent installations and exhibitions, which debuted with a permanent installation at the California Academy of Sciences.
Lin also hinted at a current project of hers: redesigning the library at Smith College, an all-women's college in Northampton, Massachusetts. The redesign will combine gestural, sculptural form with the straight line, exploring the "gentle tension between opposites," Lin said.
Marta Moret MPH '84 — who formed the idea for the lecture series alongside other female alumni and administrators — noted the significance of Lin's contributions to the University and beyond.
"[Lin] is a great first example of a woman who has come out of the tradition of Yale in building leaders of the future in all these diverse fields," Moret said. She added that this debut lecture built momentum around future talks in the series.
Moret, the president of Urban Policy Strategies who has been married to Salovey for 30 years, also highlighted her personal interest in welcoming women of color to speak in future iterations of the lecture series.
Diksha Brahmbhatt '18, an audience member, said she loved the idea of a Women of Yale speaker series, although some of her friends didn't make it into the lecture hall.
"Her presentation on the intersection of art, architecture and the environment in her work was fascinating," she said. "It was powerful to see through her own lens the massive sculptures she has envisioned and brought to life."
Brahmbhatt added that she wished Lin had spoken more about memories of her time at Yale.
Lin, the first artist and Asian-American woman trustee in Yale's history, served on the board of the Yale Corporation as an Alumni Fellow for six years.