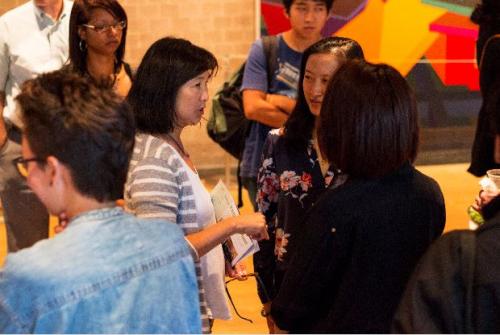 From protests last fall to the "sanctuary campus" gathering on Wednesday, the Women's Table has served as a site for student and community activism on campus. This week, Maya Lin '81 ARC '86, the sculpture's designer, will receive the White House Presidential Medal of Freedom for the cultural and social influence of her work.
Lin was named a recipient of the Presidential Medal of Freedom on Wednesday, along with 20 other recipients. The award is considered the nation's highest civilian honor and is presented to individuals who have made a lasting impact in their respective fields. Lin and Frank Gehry, a former visiting professor at Yale, are the two architects set to receive the award this year.
Yale School of Architecture Dean Deborah Berke said that architects have multiple responsibilities extending beyond the pragmatic functions of constructing built environments. Such structures can also influence social, cultural and political landscapes, she added, and architecture must work "meaningfully, responsibly and functionally." She went on to praise Lin's work for its ability to speak to human burden, strife and accomplishment.
Director of Shared Interest Groups at the Yale Alumni Association Mindy Marks '00 said that she is excited about Lin's achievement and what it means for communities of artists and activists. She said that the recognition is a celebration not just for women but also for the Asian American community at large. Marks played a role in organizing the Women of Yale lecture series, an initiative that Lin opened last month.
And although Lin graduated more than two decades ago, her contributions to Yale are still felt today beyond the occasional visiting lecture.
Visiting architecture professor Kathleen James-Chakraborty '82 studied architecture alongside Lin during their undergraduate years. She recalls the day that the campus heard Lin won a national competition for her design of the Vietnam War Memorial in Washington, D.C.
"It's probably the best day that women at Yale have had. I wish there had been many more like that since, but it was an amazing moment," James-Chakraborty said. "There was definitely an excitement and pride. If you talk to any women who went to Yale with me, there was just a lift that we got out of that that we've never forgotten. It's just one of those moments when you know that something really, powerfully good has happened."
Although James-Chakraborty was not a close acquaintance of Lin's, they were enrolled in the same architecture seminar taught by prominent architectural historian and professor Vincent Scully. In class, Lin was not a particularly vocal student, although James-Chakraborty said that Lin had clearly learned and retained much of the information that Scully taught them. She added that Lin's memorial design challenged the predominant school of thought that enveloped American architecture at the time, initiating conversations about the role of memory which had not played a major role in modernist architecture at the time.
Lin faced enormous opposition primarily based on her race, age and gender after winning the Vietnam War Memorial competition. According to articles from news sites like PBS and Bio, members of the Vietnam veteran community opposed Lin's design often due to its lack of overt patriotic symbolism. Despite these challenges, the memorial was built in 1982.
"I think the divisions the Vietnam War opened up in American society were not completely closed but were ameliorated to a great degree in ways that lasted until really the Second Gulf War by the strength of their design. That is something that happens very rarely," James-Chakraborty said. "She did it. That's a tremendous thing, and she did it at the age of 22. I don't know of any student for whom that's not an inspiration."
Elihu Rubin '99, an associate professor in Architecture and American Studies, said the Vietnam War Memorial demonstrates an intimate relationship with the environment that it is immersed in and the people who are able to view it — qualities distinct in many of Lin's works.
"Her work implies the movement of the human body into the depths of its nether and out again or the way that the human visitor's body or face is reflected in the polished granite," Rubin said. "So many Americans, including veterans, have come to appreciate that site as a type of pilgrimage of mourning and memorial. That fact is now demonstrated in her winning [the Presidential medal of Freedom]."
President Obama will present the Presidential Medal of Freedom awards on Nov. 22.