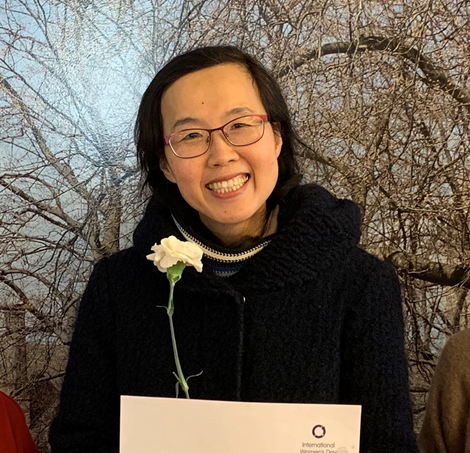 What is your role at Yale?
I started working for Accounts Payable as a financial assistant at Yale in 2005. AP merged into YSS (Yale Shared Services) in 2011. My role at Yale is to pay invoices in a timely manner, prevent duplicate payments, and correct errors on a daily basis.
The system was changed in July, 2017 from Oracle to Workday. Our team (Quality Unit) has held a weekly meeting for the last two years to find errors and system issues, and report them to management quickly. The meetings help us improve the Workday system and resolve issues right away.
In a previous role that I held for 10 years, I was responsible for processing invoices from the Help Desk in AP and for answering questions about billing inquiries. The Help Desk in AP was changed to FSC (Finance Support Center) in 2017 when the Workday system was started.
Outside of work, I began volunteering for the Asian Network at Yale (ANY) in 2011. I attend the monthly Steering Committee meetings. There, we plan and discuss community events and issues. Through Spring/Fall Social affinity events, I learn about the community and their cultures.
What brought you to New Haven?
I immigrated to U.S.A in 1995, and I lived in Pennsylvania until I moved to New York in 1999. In New York, I studied at Touro College for two years where I also worked in the Bursar Office for collecting tuition. I wanted to settle down my American life and I decided to move to Connecticut in Sept 2003. Connecticut is one of best states I have ever lived in. I applied to AP (Accounts Payable) as Financial Assistant at Yale in 2005 and got the job. 
Would you share one of your earliest impressions of Yale?
I was impressed by the "diversity" of Yale. Since I started to work at Yale, I learned that diversity is a Yale strategy and policy. I love the Affinity Groups, for example: Asian Network, African American Group, Latino Group, Working Women's Group, Veterans Group, Disability Group, Future Leader at Yale group, LGBT group, etc.  
What has been most surprising about the changes at Yale over the years?
AP(Accounts Payable) was merged into YSS(Yale Shared Services) in 2011.  AP is a small finance group which has over 20 people but YSS is one of the largest groups in Finance at Yale, which has over 70 people came from all variety of finance groups.  Ronald Kolbash created YSS in 2010 and AP joined one year later in 2011. I learned lots of finance knowledge, decision making and how to communicate with others and about team building.  I really appreciate that we work together in a big hall and have monthly staff meetings and share community news and celebrate birthdays and Yale Service years. It was a big challenge for me and it helped me to become involved in the community.  YSS allows me to join community services and activities during work hours. I am very thankful for that.
How has working on the ANY steering committee shaped your role in the community?
Before immigration, I was a social worker in South Korea.  I was interested in exchanging cultures in living experiments. I joined ANY(Asian Network at Yale) in 2011 and supported events around topics such as community commitment and  reach out, Spring/Fall Social events. The Asian Network at Yale(ANY) is one of the largest attended groups of the affinity groups at Yale. It comes from the leadership, contribution, and dedication from all of us. The newly hired employees are responsible for leadership and I usually support them.  I am an Ambassador at Yale. I introduce the Asian Network at Yale (ANY) to new employees and bring them to Affinity groups. 
Would you share someone from your past who you admire greatly?
I admire my family. My parents are still living in South Korea. My father is my mentor and my mother is my counselor. My sister and my brother understand and support me in whatever I want to do. My friends listen to me and cooperate with me. 
Who gives you strength today? 
My co-workers and my friend encourage me and give strength to me today. AP has strong teamwork and is like my family. Especially, conversations with my friend encourage me today.
What's your favorite food?
Bulgogi and salad