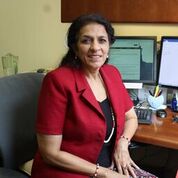 What do you do at Yale?
At the Office of International Students and Scholars (OISS), I prepare immigration petitions on behalf of research scholars/faculty and send them to Homeland Security for "Permanent Residence" (Green Card) approvals and "Extraordinary Ability" O-1 visas. This is a life-altering event for the faculty, hence, it was very gratifying to get every one of them approved. Since I have to argue their cases to keep them in the country, I also get a bird's eye view of the cutting-edge research done in many areas at the university. Personally, I am delighted to be a catalyst in this critical pursuit which also translates to helping senior professors with their research. My work also rewards me with new friends despite the arduous long process. I truly enjoy what I do, and it is most rewarding. 
What was your childhood dream and whom did you admire?
My childhood dream was to be a research scientist like my idol Marie Curie. Naturally, I gravitated towards the sciences and enrolled in B.Sc Physics (Hons) at Miranda House in Delhi University. Those days, it was seen as a privilege to be selected as one of only 40 girls to major in Physics(Hons). But sadly, the way physics was taught, coupled with the British system of specialization with no tests during an entire year but culminating in only one exam period at the end of the year, meant I could not sustain my interest in physics. At the time of my college graduation, I was only 18 yrs old, perhaps too young to know what I wanted in my life. I chose not to pursue physics any further. 
Where were you before arriving at Yale? 
I was at Cambridge, MA. I moved from India after I got married to Shankar, who was then at the Harvard Society of Fellows. We lived as Physics Tutors at one of the Harvard undergraduate Houses. (Kirkland House). Since I was young and in the age group as undergrads, staying at the student dorm was a real eye opener and an interesting start to life in the U.S.! 
You've been at Yale now for over 20 years? Is it longer?
Officially, I completed 25 years at Yale this year. I worked longer but took a long break to raise our 4 kids. I made many disparate switches in my career at Yale, starting as a computer programmer, then onto special projects to working with policies in finance. These moves did not help me advance linearly as I had to start over every single time. However, my current work seems to be the best fit for me. I very much look forward to coming to work every day to help international researchers at a thriving university! Even though I got an MBA at some point, I could not ever imagine myself in a corporate setting. 
Are you involved in any other part of the Yale community?
The affinity groups are proving to be amongst the best new initiatives at Yale. ANY is the best use of my volunteer time with outsized benefits. I joined almost at its inception and as a steering committee member, I recruit new members and take great pride that many of them have gone onto top leadership positions at ANY. I utilized the rich resources from within Yale and recruited faculty multiple times to offer career advice to Asian postdocs.
As a Fellow of Jonathan Edwards (JE) College, I look forward to my JE lunches interacting with the students. I was a regular attendee at Thursday Fellows' dinners, but now I attend mainly special events. In the past, I had volunteered to be an additional reader for adjudicating the senior essays for the various student awards. JE has a fund that enables the students to experience many cultural events in New York City. As a Fellow, I am afforded the chance to accompany selected students. We go to the event followed by dinner, where I hear about the fascinating paths they took to arrive at Yale from different states of the U.S. or different countries of the world.
At these events, I had shared stories about our 4 children and the lessons learnt in their own college years. The students would ask questions about how my kids decided on their majors. Two of our children were STEM majors at Harvard and the other two did non-STEM at Yale. Three went on to pursue Ph. D degrees and one pursued an MBA. This would lead to eager questions on careers they pursued and how they got there, summer internships etc. One of my daughters changed her career path 3 times and the students are always fascinated with the switch of careers. The students tell me these conversations are very helpful.
I also participate in South Asian events. Sometimes undergrads, grad students, scholars outside of my work will stop by to seek career or life counsel. I am a sounding board for them.  It is always a delight to hear from research scholars/faculty who keep in touch well after they get their green cards. I even traveled outside the U.S. to attend a student's wedding 6 years after graduation. 
What changes have surprised or inspired you?
I am inspired by how the University is continuously working to safeguard the interests of faculty, students and staff in every possible way. They are too numerous to itemize. I also feel better with all the security safeguards in place. There is a tremendous sense of Yale community nowadays with all the diversity programs and affinity groups. Human Resources offers several programs to enrich our professional and personal lives. I am off during lunch attending some event or the other. OISS offers numerous programs to cater to newcomers. The support given to the spouses is stupendous! I know its tremendous value as someone who had lacked it when I desperately needed it. The dining hall offers delicious options and caters to various dietary restrictions.
What advice would you give new international members ?
It had felt lonely for me to come to a new culture, leaving behind an extended family of 50+ first cousins. It was hard to raise our kids with no immediate family to go to during Thanksgiving and the holidays. Additionally, I had been shy. 
Based on my experience, this is the advice I give to them: Come to OISS events! Actively participate in Yale events, and be proactive in pursuing hobbies. The interactions with people from various cultures is not only educational but also enables new friendships. A while ago, I had a scholar ask me "I want to be friends with Americans. How do I do that?" We talked about how to approach a stranger on a Yale shuttle bus or lab mates. I suggested starting with an innocuous comment on New England weather here as compared to home as an icebreaker, then moving on to their work/research interests. Mentioning his home country may lead the other person to open up about her/his country. People love to talk about themselves and we drew up a list of questions to keep ready. 
What piece of Yale or New Haven culture do you share with them?
First, I myself take full advantage of the various cultural events and talks and feel grateful to have two enjoyable jobs. (8.30-5.00pm at OISS and 5.00-9.00pm - going around Yale events!). Hence, I share everything about Yale and New Haven enthusiastically. Via OISS, I organize guided tours to museums, art galleries, concerts and plays about once a month during the academic year. Usually there is a reception before the events to give people the opportunity to mingle. I also share numerous daily events listed on Yale calendar. I goad them into going to the various treasures at Yale.
Decades ago when I first landed here from Cambridge, I was afraid to cross the New Haven Green by foot. Since then, New Haven has changed a lot, positively and delightfully so. Lots of exciting events, eclectic shopping places, ethnic restaurants and theatres offering great programs make New Haven very attractive. Now, I do cross the Green by foot!
What is your favorite pastime?
Travel, without a question. There is so much to see and learn in life! I have been extremely fortunate to have visited 58 countries, all purely on pleasure trips. I have enjoyed every country for its own beauty and culture. I do wish to go to New Zealand and Japan next. But I have not been to all 50 states in the U.S. There is so much natural beauty within the U.S. to enjoy right in our own backyard! I also hope to experience some of the stunning national parks.
Anything else that you wish to share?
I get all my "brilliant ideas" in the middle of the night. It could be a solution to an existing problem or a new travel plan. I am then bursting with excitement and my poor husband has to hear it in the middle of the night! 
Updated 10/4/2019 from original article posted 9/19/2019