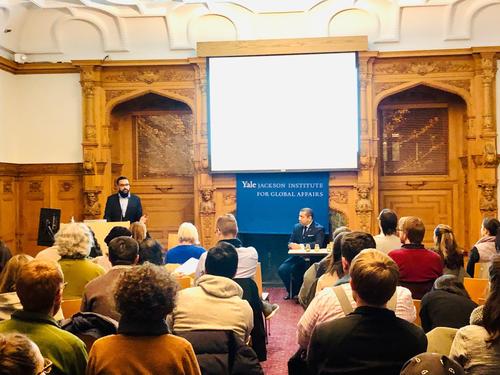 Over 90 attendees experienced a once-in-a-lifetime world tour of  unique stories and histories of the rare teas and a tasting at "The Diplomatic Power of Tea: A History Presentation & Tasting of 10 of the Rarest Teas in the World. " The event was co-sponsored with WWN and the World Fellows Program. For detailed information on 8 out of the 10 the London Tea Exchange teas tasted please see the program from the event, here.  Special thanks to Nizam Uddin (Yale World Fellow) who hosted and provided us this opportunity at Yale. 
CEO and Founder Sheikh Aliur Rehman, of
The London Tea Exchange shared ten of the rarest teas in the world under one roof for the first time, and provided an opportunity for attendees to taste and hear the unique story of their accumulation and history. We explored the significant role tea has played in the geopolitics of nations, and how it continues to carry significant diplomatic currency. Also, this special event kicked off the Asian Network at Yale's
Culinary Journeys Series
featuring chefs and culinary entrepreneurs exploring the foods and cultures of Asia and Asian America.