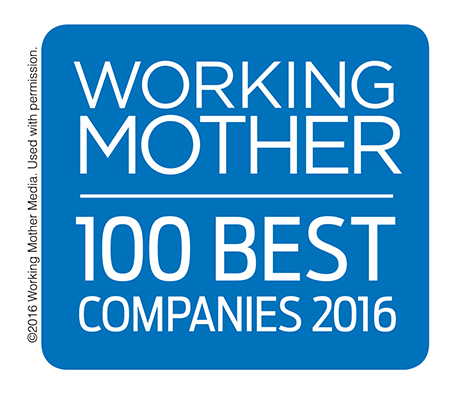 Yale University has been selected by Working Mother magazine as one of the "100 Best Companies" in the nation for working mothers for the seventh consecutive year. Yale is the only university on the list.
For over three decades, the magazine's Best Companies initiative has tracked the progress of organizations that lead in creating supportive workplaces for America's families. Working Mother notes that parental benefits are key to attracting the best talent, and the companies it recognizes aim to create a culture to achieve this.
"We are honored that Yale has been selected for the seventh year in a row as one of Working Mother magazine's '100 Best Companies,'" said President Peter Salovey. "This distinction affirms that women have made and continue to make pivotal contributions to the university. We have recognized that for a long time on this campus; it is why we strongly support a family-friendly environment, value inclusion, and provide leadership opportunities for women. Yet, we know that Yale can always do more to create a workplace in which all of our employees thrive, enabling us to succeed in our mission of research and education."
Working Mother citied the university's comprehensive benefits; the representation of women in its workforce; paid time off and leaves; access and usage of flexible work arrangements; support for women's issues and advancement; and company culture and work-life programs.
Subha Barry, vice president and general manager of Working Mother Media, says, "This year's class of winning companies goes the extra mile to support working moms and all diverse families. In 2016, fully paid leave offerings have grown to an average of nine weeks, up from eight last year. The Working Mother 100 Best Companies continues to pave the way for employers nationwide to support their employees, both personally and professionally."
"It is exciting to see our university again picked as one of the best places in the nation to work by Working Mother magazine," says Mike Peel, vice president of human resources and administration. "We are committed to the highest standard of workplace excellence and are pleased to be recognized on this aspirational list."
Working Mother chooses employers for their leadership in creating progressive programs for the work force in the areas of advancement of women, flexibility, child care, and paid parental leave. The magazine's October/November issue writes that Yale's eight affinity groups, "nearly all headed by women," include many working mothers, and points out that "mentoring programs, coaching sessions, and leadership classes accelerate their careers."
Kelley James, senior administrative assistant in neurology who is an affinity group member and working mother, credits a workshop titled "Navigating Your Career" with fast tracking her thinking about her job. "I remember sitting in the class," says James, "and having this aha moment that opened my eyes to a whole other world of possibility, of really going somewhere professionally. From that class to now, I've gone from just having a job to knowing I can have a career." James will represent Yale at the Working Mother awards ceremony in October.
Highlights of factors that contributed to the university's winning selection are listed below.
Benefits: Yale Health, which offers affordable full-family coverage and is the healthcare provider used by almost 75% of employees, annually receives high marks from Working Mother. This year only five other companies' benefits ranked above Yale's health benefits and unique offerings like Tuition Reimbursement, Scholarship for Sons and Daughters, and the Homebuyer Program. In addition to on-site child care and referral resources, employees have 24/7 phone and e-mail resource-and-referral services through Magellan Behavioral Health, the provider of Yale's Counseling and Support Services program, not only for child care, but also for guidance on elder care resources for aging parents throughout the United States.
Women in the workplace: Working Mother touted the university's support for women's advancement through career development and mentoring opportunities. In 2015, 300 Yale professionals, 75% of whom were women, attended "CareerConnect" to learn about available career development resources. It was sponsored by Organizational Effectiveness and Staff Development, which offers 30 classes under the categories of Managing at Yale, Professional Development, Career Development, and Communications. Of 111 employees who participated in the "Extraordinary Leader" class over the past two years, 70 were women — of those 70, 28 were promoted in 2015. The year also saw the launch of formal mentorship programs by Working Women's Network and the Business Operations Leadership team.
Flexible work: Access to and use of flexible work arrangements was specially noted by the magazine. To date there has been an increase in the number of managers attending flexible work arrangement workshops. Yale's flexible work option for exempt non-faculty staff also continues to stand out.
Work-life, health and wellness programs: Working Mother also noted the ways in which Yale champions work and life balance. The stress-free craft series sponsored by the Work-Life Program continued in 2015 with waiting lists the norm for every class offered. Other workshops and webinars covered everything from the college financial aid process to caring for aging loved ones. Being Well at Yale promoted an eight-week online activity challenge in the fall and spring for the third year in a row while still offering lunchtime painting classes and more mindfulness meditation sessions, including lunchtime drop-in sessions. It also provided online resources to support smoking cessation, physical activity, stress management, and weight management and nutrition.
Family friendly: The number of on-site lactation rooms increased from 13 to 17, with more in the planning stages. Various family-related events and programs were offered, including the annual summer camp fair, the annual Multicultural Block Party, and the first annual children's clothing swap.
The full profiles of the 100 Best Companies are available online and in the October/November issue of Working Mother magazine.