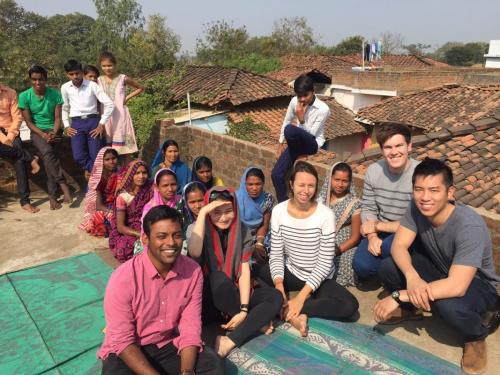 Every year, the Yale School of Management's Global Social Entrepreneurship course gives student teams the opportunity to act as consultants for Indian social enterprises. Last fall and winter, six teams addressed a range of projects. The students spent a half semester working with the organizations remotely before traveling to India in January, and then completed their work in early March.
The students shared some key takeaways during presentations hosted by the Social Impact Lab on March 1 and March 8.
TARAurja
Arjun Adichazhi Valappil '17, Robin Chan '17, Maggie Chau '17, Ramya Gopal '17, and Ruth Sego FES '17 partnered with TARAurja, a solar microgrid company that operates in remote, rural areas in Northern India and wants to expand.
The students worked with TARAurja on ways to improve operations, reduce capital expenses, and learn from the example of comparable peer companies.
"In India, there's been a lot of rapid development over the last few decades, but there are still a lot of people who lack reliable access to electricity. It's difficult to extend the gird into rural areas, so a lot of off-grid companies, like TARAurja, have arisen."
– Robin Chan '17
BASIX Sub-K Transactions, Ltd.
Emilie Leforestier, MA '17, a student at the Jackson Institute for Global Affairs; Justin Ling '17; Will Sealy '17; Anudeep Yegireddi '17; and Nina Zhao MAM '17 partnered with BASIX Sub-K Transactions, a microfinancial institutuion that links banks and customers and wants to expand so that more Indians can access formal financial services.
The students worked with BASIX to target how the company can leverage new technology to expand its credit services. Students analyzed financial technology innovations that BASIX could integrate into its operations,  improving both efficiency and customer experience
"India is going through a digital revolution right now, which we think could be really beneficial for increasing access to credit."
—Justin Ling '17
AlphaMD LifeSciences
Rebecca Joy Anderson MA '17, a student at the Jackson Institute for Global Affairs; Vaibhav Desai '17; Vichi Jagannathan '17; and Daniel Nyaho-Darti MAM '17 partnered with AlphaMD LifeSciences, a startup focused on how analytics information is shared with pharmaceutical companies.
The students analyzed several business models of how AlphaMD could launch a new, mobile healthcare delivery system to bring care to rural areas. Students worked on a financial model for the undertaking, paying special attention to key metrics that could track performance.
"We studied models of non-urban healthcare delivery in India. It was the first time any of us had dealt with the concept of healthcare delivery. Conversations with stakeholders made the trip so valuable."
—Rebecca Anderson MA '17, a student at the Jackson Institute for Global Affairs
Other teams included:
Eunice Amo MAM '17; Oscar Benjamin '17, FES '17; Tanveer Chawla '17;  and Caleb Thomson MAM '17, who partnered with the Center for Science and Environment, a public interest research and advocacy organization, on a business plan to promote sustainable development through organic farmers' markets.
Shashank Iyer MA '17; Kamal Naidu MAM '17; Ariel Olswanger SPH-HCMP '17; and Ariel Russ FES '17, who partnered with Sadhna, a handicraft enterprise that helps women artisans achieve economic and financial empowerment by selling their crafts.
Basim Aqdas '17, Natania Gazek '17, Kaitlin Koga '17, and Jessel Patel '17, who partnered with the Mann Deshi Foundation, a women's cooperative bank and foundation in rural India that seeks to empower women through financial services.