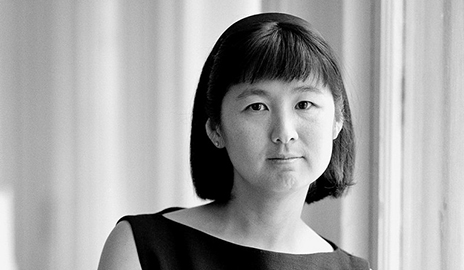 A new "Women of Yale" lecture series sponsored by President Peter Salovey will launch on Friday, Oct. 7 with famed architect and alumna Maya Lin as the featured speaker.
Lin's talk, titled "Topologies — Process and Projects," is based on 2015's "Topologies," a monograph of her work. It will take place at 3:30 p.m. in the Robert L. McNeil Lecture Hall of the Yale University Art Gallery, 1111 Chapel St. A reception will follow the lecture, which is free and open to the public.
The presidential lecture series celebrates the rich heritage embodied in the half-century since women first enrolled in Yale College, and will continue through the 50th anniversary of Yale undergraduate coeducation in 2019.
"As the creative force behind the Women's Table on Cross Campus — and as an inspiration to the generation of students who have succeeded her — Maya Lin embodies the spirit behind the President's Women of Yale series, and we are incredibly honored to have her as our first speaker," said Marta Moret '84 M.P.H. Moret, along with a small group of alumni and administrators, developed the series as a way to prominently feature Yale women as part of events celebrating coeducation.
A graduate of Yale College in 1981, Lin earned a Master of Architecture degree in 1986 from the School of Architecture, which awarded her an honorary Doctor of Fine Arts degree in 1987. She designed the Vietnam Veterans Memorial, now the most-visited memorial in Washington, D.C., as a class project in her senior year. She formerly served on the Yale Corporation.
Her other projects include the Civil Rights Memorial in Montgomery, Alabama; seven art installations along the Columbia River designed to mark the bicentennial of the Lewis and Clark expedition; a topiary park in Charlotte, North Carolina; the Museum of Chinese in America in New York City; the Langston Hughes Library in Clinton, Tennessee, and, most recently, a collaboration between artists and scientists to bring attention to species loss in the natural world, among others. She is also a renowned sculptor. Her numerous honors include the Rome Prize in 1999 and a National Medal of Arts in 2009.
Mindy Marks '00, director of Shared Interest Groups at the Yale Alumni Association, is helping Moret and the Office of the President with the planning of the Women of Yale series. She says she is excited about the inaugural event because Lin's talk will be of interest to the entire university community — students, faculty, staff, and alumni. She adds that over the course of the next three years, guest lecturers from a variety of disciplines will be on campus as part of the series.
Said Salovey of the series he is hosting: "As we approach the 50-year anniversary of undergraduate coeducation at Yale, what better way to showcase the rich diversity of women's contributions to the university than through the words and insights of some of our eminent alumnae?"