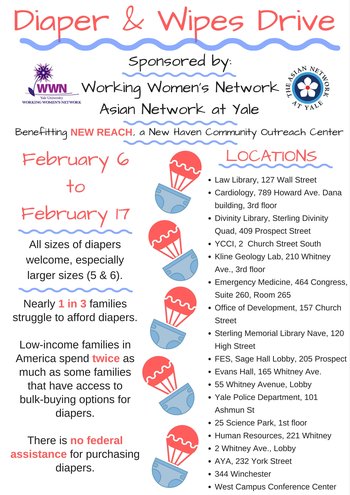 A Diaper & Wipes Drive, sponsored by the Working Women's Network and the Asian Network at Yale, will take place from Monday, February 6 through Friday, February 17. The drive will benefit New Reach, an organization headquartered in New Haven that works to inspire independence for those affected by homelessness and poverty through a continuum of housing and services. Diapers of all sizes are welcome, although there is a particular need for larger sizes (5 and 6).
Diaper need is a problem facing many families – it has been reported that nearly 1 in 3 families struggle to afford diapers, which can lead to serious health problems for both babies and parents. It has also been reported that low-income families in America spend twice as much as some families that have access to bulk-buying options for diapers, and there is no federal assistance for purchasing diapers (Source: https://www.whitehouse.gov/blog/2016/03/10/diaper-divide).
Those wishing to make a monetary donation to New Reach can visit their website at www.newreach.org.
Please contact Kristen Plock, co-chair of the WWN's Yale Family Network, with any questions at kristen.plock@yale.edu.
Diaper & Wipes Drive Collection Locations:
Law Library, 127 Wall St.
Cardiology, 789 Howard Ave. Dana Building, 3rd Floor
Divinity Library, Stirling Divinity Quad, 409 Prospect St.
YCCI, 2 Church Street South
Kline Geology Lab, 210 Whitney Ave., 3rd Floor
Emergency Medicine, 464 Congress, Suite 260, Room 265
Office of Development, 157 Church St.
Sterling Memorial Library Nave, 120 High St.
FES, Sage Hall Lobby, 205 Prospect
Evans Hall, 165 Whitney Ave.
55 Whitney Avenue, 1st Floor Lobby
Yale Police Department, 101 Ashmun St.
25 Science Park, 1st Floor Lobby
Office of Human Resources, 221 Whitney Ave., 1st Floor Lobby
2 Whitney Ave., Lobby
Association of Yale Alumni, 232 York St.
344 Winchester
West Campus Conference Center, 100 West Campus Drive