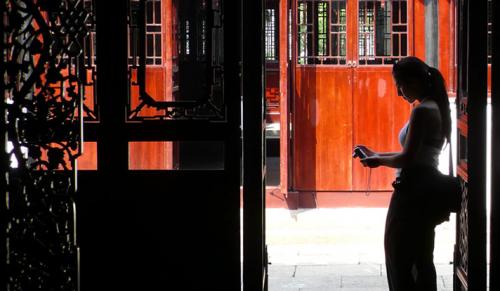 By Renee Bollier
Yale has the longest — and arguably, deepest — relationship with China of any university in the United States. And it all started with the work of one alumnus.
In 1835 Peter Parker (B.A. 1831, M.D. 1834), a Yale graduate, doctor, and ordained minister, initiated a series of "firsts" in China. In 1853 Parker became the first Protestant medical missionary to travel to China, and he went on to open China's first Western-style hospital, the Ophthalmic Hospital; became the first doctor to introduce modern anesthesia to China; and even negotiated the first treaty between the United States and China, the Treaty of Wanghia. Parker also kept meticulous notes about daily life and medical treatments in 19th-century China; today, his papers and medical illustrations can be found in the Yale Medical Library's collection.
Growing connections
Yale's connections to China grew rapidly over the 19th and 20th centuries. In 1854, Yung Wing graduated from Yale College, becoming the first person from China to earn a degree from an American college or university. He later donated a substantial portion of his personal library to Yale; this gift became the basis of the Yale East Asia Library's Chinese collection, which has grown to over 520,000 volumes and is considered one of the major collections in the United States.
Peter Parker (B.A. 1831, M.D. 1834), a Yale graduate, doctor, and ordained minister, played a crucial role in the creation of the Yale-China connection. (Image courtesy Peter Parker Collection)
In 1878, Yale appointed its first professor of Chinese language and literature, Samuel Wells Williams. a noted missionary and diplomat who had spent many years of his life in China Thus Wells became the first professor of Chinese language and literature at any American university. In the same year, Zhan Tianyou, a student from Namhoi, China, entered Yale's Sheffield Scientific School — now integrated with Yale College — and graduated in 1881 with a Ph.B. in Civil Engineering and a strong interest in railroad construction. He returned to China after graduation, where he would become known as the "Father of China's Railroad" after leading the design and construction of several of China's first railroad lines.
In 1901, the Yale-China Association — originally known as the Yale Foreign Missionary Society — was founded by a group of Yale graduates and faculty members committed to establishing a Christian missionary presence overseas. The group was nondenominational from its beginning and by the 1920s was no longer an overtly missionary enterprise. It was re-incorporated in 1934 as a secular organization, the Yale-in-China Association, and in 1975 as the Yale-China Association. The organization still exists today and supports multiple programs focused on education, health, and the arts. Among the association's most renowned programs are the Yale-China Teaching Fellowship, which enables recent Yale graduates to take on two-year teaching appointments in China, and the Yale-China Arts Fellowship, which brings emerging Chinese artists to New Haven for a six-month residency.
Yet another Yale-China connection, the Council of East Asian Studies at Yale University (CEAS), was created in 1961 to facilitate the training of undergraduate and graduate students, and to foster outstanding education, research and intellectual exchange about East Asia. Today, the council continues to promote education about East Asia both in the Yale curriculum and through lectures, workshops, conferences, film series, cultural events, and other educational activities open to students, faculty, educators, and the general public.
Brownell Gage (front left), Arthur Williams (front right), and Lawrence Thurston (back right), seen here as recent Yale graduates, 1898. (Photo courtesy Yale-China Association)
The university also inspired multiple generations of Chinese educators. Several Yale graduates have become presidents of Chinese universities, including Tianjin University, Peking University, Tsinghua University, Fudan University, and Fudan Shanghai Medical School. In fact, four of the first six presidents of Tsinghua University (established in 1911) were Yale alumni.
The bond between Yale and China also extends to politics. In 1974, future U.S. president George H.W. Bush '48 was appointed as U.S. liaison to the People's Republic of China, effectively making him the first U.S. ambassador to that nation. Later Yale graduates Winston Lord '51, Clark T. (Sandy) Randt, Jr. '68, and Gary Locke '78 became U.S. ambassadors to China.
A flourishing relationship
Yale's relationship with China has continued to flourish. Today, over 600 Chinese students are at Yale. Chinese students and scholars represent, by far, the largest group from any foreign country in residence at Yale.
The partnership between Yale and China has extended to educational and exchange programs on campus and in China, including the The Richard U. Light Fellowship and the Bulldogs International Internships Program, among others. Over 150 Yale faculty are pursuing a broad array of research, educational, and training activities in and related to China. Currently, Yale faculty members are engaged in projects in 22 cities involving scores of Chinese universities, hospitals, research institutions, and other organizations.
Highlights from recent years include:
When Peter Parker traveled to China in 1835, he likely didn't realize that he was forging what has become one of Yale's strongest international partnerships — one that is expected continue to grow in the years to come.