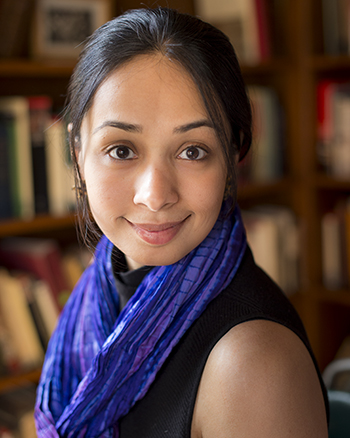 Ayesha Ramachandran '08 Ph.D., assistant professor of comparative literature at Yale, has been awarded a 2016 New Directions Fellowship by the Andrew W. Mellon Foundation.
Ramachandran is one of 12 scholars nationwide named as a fellow in 2016 and the seventh Yale faculty member in 13 years to win this award, which provides funding for up to three years of advanced study in a discipline outside of the recipient's specialty.
Ramachandran's expertise lies in the literature and cultural history of early modern Europe. She focuses particularly on transnational encounters and the early mechanisms of globalization from the late 15th to the early 18th century, as Europe related to an expanding world. She will use the Mellon Foundation award to conduct linguistic training and research into the Persianate courts of the 16th and 17th centuries, investigating cross-cultural communication between European and Ottoman, Safavid, and Mughal cultures.
"By performing this research and language study," Ramachandran said, "I hope to acquire the tools necessary to join a small but growing group of scholars committed to bridging the intellectual, historical, and scholarly divide between Europe and the Middle East by reconsidering their linked histories."
Through the Mellon Foundation award, Ramachandran will devote the 2018–2019 academic year to graduate study at Columbia University to build a solid intellectual foundation in Persian culture, history, and influences. She will bookend the year with two summers of intensive language study and hands-on archival research with curators at major international repositories, supplementing her coursework with the guided study of major Islamic manuscript collections at the Metropolitan Museum of Art, the Morgan Library, Yale, and Columbia.
The Andrew W. Mellon Foundation was established in 1969 and endeavors to strengthen, promote, and safeguard the humanities, the arts, and the contributions they make to flourishing, diverse, and democratic societies. It has awarded the New Directions Fellowships to rising young scholars since 2002. The fellowship encourages interdisciplinary humanities research in areas that may require training beyond doctoral study.
"I am very grateful for the Mellon Foundation's generous grant," Ramachandran said. "The freedom to take time to branch out intellectually is invaluable for any scholar, and the Mellon foundation's funding encourages the flexible and cross-disciplinary thinking that opens new pathways of scholarship and intellectual inquiry. I am honored and excited to be chosen for their support of interdisciplinary scholarship."